PEARL GRAND HOTEL COLOMBO THE NEWEST AND THE LATEST ADDITION TO PEARL GROUP OF HOTELS EMERGED THE BEST AMONGST THE BEST BY GRABING THE A  GRADE + EXCELLENCE  FOR THE YEAR 2013 ,  IN THE FOOD SAFETY HIGH ACHIEVERS  CRITERIA.
IT WAS ALMOST AN EXCITING EVENT FOR PEARL GRAND , AS THEY WERE ONLY 3 MONTHS IN THEIR OPERATIONAL HISTORY. AND TO HAVE RECEIVED THE COVETED AWARD WAS REALLY MAGNIFICIENT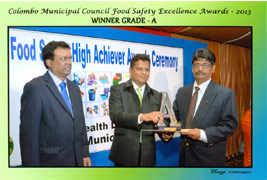 THE EXECUTIVE CHEF MR. DHARMA WICKRAMASINGHE WHO HAS OVER 35 YEARS LONG EXPERIENCE IN THE CULINARY FIELD , MADE THIS HAPPENED BY TREMENDOUSLY  CONTRIBUTING ALL HIS WEALTH OF EXPERIENCE AND KNOW-HOW IN THIS " BABY KITCHEN " .
THE KITCHEN IN PEARL GRAND ,IS A "SHOW KITCHEN" FOLLOWING ALL THE NORMS OF THE CRITERIA , LAID DOWN BY THE PUBLIC HEALTH  SUCH AS , CLEANLINESS ,ENVIRONMENTAL  FRIENDLINESS , HIGH ASPECTS OF FOOD HYGIENE, FOOD PREPARATION , STORAGE  , DISPLAY, SELECTION OF RAW MATERIALS ETC; HAD CONTRIBUTED TO THE END RESULTS, OF RECEIVING THIS COVETED AWARD.
THE OLDER  HOTEL OF THE GROUP – PEARL CITY , WAS AWARDED THE  " A GRADE "  AWARD AND IT IS  BEEN RECEIVED FOR THE 3RD TIME , IN SUCCESSIVE YEARS.CHEFS MR. ASANKA AND MR.  UPALI ,HAD WHOLEHEARTEDLY CONTRIBUTED THEIR MAXIMUM TO REACH THIS AWARD. PEARL CITY  RUNS A SAME STANDARD OF KITCHEN , WHICH IS MOST POPULAR WITH MALDIVIAN / INDIAN /PAKISTANI AND NOW WITH EUROPEAN STANDARD CLIENTS , WHO PATRONIZE THEIR KITCHEN.